Llangollen (4' 8½", Summer 2006)
Various BMRG members recently had a day out at the Railcar Gala weekend on The Llangollen Railway.
Following are a few photographs taken during the day.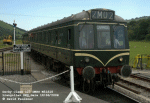 A mixed formation unit arrives at Carrog, the leading car being Class 127 MBS car M51618, one of sixty such vehicles that used to ply the suburban routes out of St Pancras until these were electrified in the early 1980s. Although the transmission system is significantly different to that of the two-car Class 104 set it is coupled to, the control system is compatible! The Class 104 is illustrated below.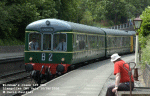 A lightweight Wickham Class 109 two car set leads a Class 108 "Derby Lightweight" twin into Llangollen. The Wickhams were a small class of only five twins that were withdrawn relatively early. E50416 and E54171 lived on as the "General Manager's Saloon" on the Eastern Region. After purchase for preservation, they underwent a thorough restoration, aided by Lottery funding, to give the result shown here.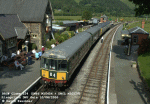 A classic view of Carrog Station and some classic DMU vehicles! Nearest the camera is a Class 104 Birmingham RCW power twin unit, M50454 and M50528 with Blue/Grey Class 108 Derby Lightweight twin 51907 and 54490 in the distance. Both of these types are relevant to our 1977 Mostyn layout, hence the need for this research trip! The Class 104 was a particular favourite on account of its comfortable seating, wooden interior panelling and the general loudness of the exhaust system; on the trip illustrated, the driver had changed down to second gear in the tunnel and when the throttles were opened, the resulting sounds left our ears ringing. Note the absence of roof ventilators, as a result of a modification in the 1980s.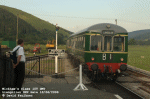 After some socialising in Llangollen, we caught the last train of the day back to Carrog, a six car formation comprising the Class 104, 108 and 109 twins seen earlier in the day. Needless to say, we could not resist the throaty bellow of the 104! Here the train is seen departing from Carrog, watched by Barrowmore MRG's resident DMU fanatic Eddie Knorn, with the Wickham set bringing up the rear.
For more information on DMUs, we recommend a visit to The Railcar Association.
Images for personal non-commercial use only.
All Rights Reserved © 2006 Barrowmore Model Railway Group