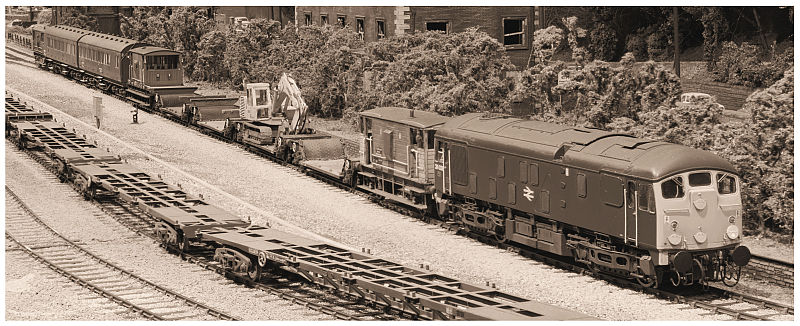 One of the best-known Diesel & Electric era layouts on the current exhibition circuit, Mostyn has moved 'P4' standards into more general awareness. Offering a large true-to-life layout that runs frequent, prototypically-correct formations at realistic line speeds; Mostyn has proved very popular with the visiting public at exhibitions.
Amongst the stock introduced at recent exhibitions, Mostyn now boasts a large Fleet of DMU vehicles, an ever increasing number of parcels vehicles, a CWR wagon train (minus rails), LMS- and GWR-design brake vans, Mostyn Dock Shunter no.2 and a 12t Van train that's slowly increasing in size at each show. The class 40 fleet has of course expanded to cope with this increased traffic; 40182 and the celebrity green machine 40106 were introduced to traffic at the 2008 Trainwest Exhibition at Melksham. (Further details of the Mostyn Class 40s can be found in issue 115 of Rail Express magazine).

Although stock building was slowed over the first six months of 2009 whilst Mostyn's extension was progressed, output soon ramped back up and amongst the goodies we had for you at Wigan 2009 were some of Colin Craig's excellent freightliner flats, along with expansion of the DMU fleet in the shape of BRCW class 104s. Since then our passenger fleet has expanded to the include the ubiquitous Mk2 coach design and of course additional parcels stock is always required!

There are still about three or four years of locomotive and rolling stock-building to go whilst subtle scenic improvements continue.

As of Glasgow 2017 the display material that accompanies Mostyn was upgraded. Click here to see a selection of the display material that previously accompanied Mostyn, this providing brief details of the prototype.
For further information about Mostyn, contact Richard Oldfield or Philip Sutton
Images for personal non-commercial use only.


All Rights Reserved © 2020 Barrowmore Model Railway Group