Johnstown Road (O Gauge, Cambrian Railways, 1908)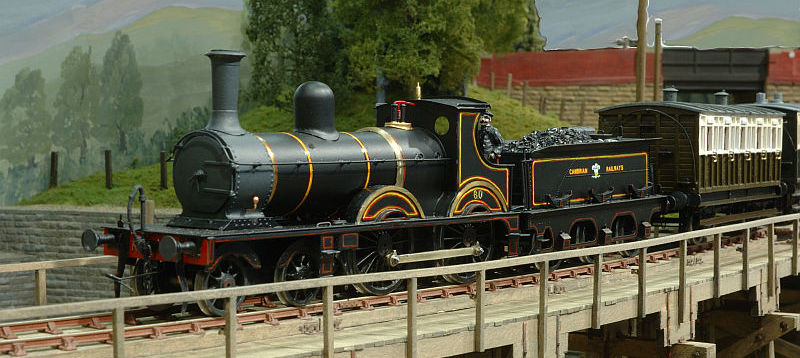 We are living during the reign of King Edward VII when motor vehicles were still a rarity in the countryside. Women did not have the right to vote, life expectancy was much lower and the typical working man endured long hours of manual labour in field, quarry or mine.
Johnstown Road condenses many features of the Tanat Walley Railway into an imaginary minor station with active goods traffic. The Tanat Valley Railway led a precarious financial life and this is reflected in the cheap methods of construction used for its buildings and facilities.


These cheap and cheerful construction methods can be contrasted with the more grandiose ambitions of the Cambrian extension - In our imaginary world, Cambrian Railways spotted the traffic potential at the growing port of Porth Nevin and built an extension from the Tanat Valley-based Johnstown Road onto the coast. The existing narrow gauge railway serves nearby granite quarries and the arrival of standard gauge created the need for a transhipment wharf as well as some mixed gauge track on the quayside.

Hopefully enthusiasts of Welsh railways will recognise many prototype buildings and scenic features which we have transported into these imaginary settings.
---
A Johnstown Road outing during February '08 was at the Harrogate show
---
Photographs from the Alexandra Palace show where the extended Johnstown Road was debuted over the weekend of March 24-25 2007

---
The Johnstown Road Extension
Construction work on the Johnstown Road extension commenced following its final outing in its original form at the Glasgow Show in 2006.


Before construction of the extension commenced, Emlyn Davies provided some artist's impressions of the completed layout. As work on the extension progressed (and also our ideas) Emlyn provided further drawings.
---

In the locomotive gallery you will find Locomotives that may be found operating on Johnstown Road; and some that are kept for special occasions.

---
From the archives are some pictures taken at the Merseyside MRS show in 1995 of a 7mm Cambrian layout called 'Trewithin'. Although both Trewithin and Johnstown Road are both based on the Tanat Valley line, what does each have to do with the other you might ask? Well, 'Trewithin' was the original name of Johnstown Road when first built by John Staneke.
When John lost his battle with cancer before he could complete it, the layout was entrusted to Emlyn Davies, it was under his guidance that the layout was scenically renovated; it was then renamed in John's memory.

Although scenically the layout has progressed enormously compared to 1995, various features will be recognised on John's baseboards. This picture shows the cattle dock and goods shed. The crane in the foreground remains on the layout, but now resides on the loading bay of the Farmers' co-op.



All Rights Reserved © 2017 Barrowmore Model Railway Group